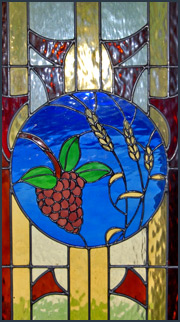 Sunrise cares and shares with our neighbors across the street, across the state and across the globe! Join us as we reach out to share Christ's love with others!
Hunger Barrel
Each month we bring food to deliver to local agencies. We support the Emergency Aid Food Bank, Salina Rescue Mission, the Ashby House and Domestic Violence Association of Central Kansas. We often take special collections of needed items for these agencies. 
Presbyterian Disaster Assistance Offerings
We take this offering to help those who experience earthquakes, tornadoes, floods and other disasters. PDA offerings particularly go to long term disaster relief.
Mission Trips
Join Sunrise members and youth on our yearly mission trip to serve others. Adults often have the opportunity to join volunteers from the Presbytery of Northern Kansas on a variety of mission trips.  In 2011 approximately 20 youth and adults traveled to Ferncliff Camp in Arkansas to help make kits for disaster victims and offer a helping hand at local non-profit agencies.
Serving Salina Together
Sunrise participates with Salina congregations semi-annually to help clean up parts of our city. Children, youth and adults join to rake, pick up trash and spruce up homes.  The Volunteer Connection manages the registration for these drives.
C.A.S.T.L.E. (Children's Active Summer Time for Lunch and Exercise)

The C.A.S.T.L.E. Project is a summer place for lunch, fun, games and learning for children in grades K-5. The program is free and meets Monday-Friday from 9:00 a.m. until noon.
Fellow Man International
Sunrise supports Fellow Man International, a non-profit, non-government organization led by Lisa Armstrong and dedicated to the service of the poor in Honduras.
Sunrise Presbyterian Church
825 E. Beloit in Salina, Kansas 67401
Phone: 785.823.6344 – Fax: 785.823.6345
secretary@sunrisepresbyterian.com